When we read a book, when we read the news, when we watch a documentary or a show on TV or a movie, it is almost always that there are animal characters that inspire us. There is a never ending story about animals. Why so? Because through animals, we see our own values in life .Through them, we become children once more who have a happy concept of the world.

Yes, we are happy when animals are around us. That is why we like to read fables and animal books. We really like visiting the zoo in every place we go to. We like to keep pets and take care of them like our own. We treat them as someone and not something. For it is true, that animals are humans like us who have feelings. They need love and give love in return.

There are a lot of pets that came and go since I was a child. But then, all of them were ebbed in the deepest part of my heart. I would never ever forget them. The joys and companionship they gave me, especially during the lonely days of my childhood, were still fresh in my mind.

Take my mother's dog Elfie. I really got no idea why my mother named him like that but it sounded so endearing to all of us. And especially for me. Elfie was the only one who stayed with me in that corner of our backyard when I isolated myself from the rest of my family after I got a painful scolding from my father. He showed me that he cared by wagging his tail and licking me. I stayed there the whole afternoon and he never left me in a single moment. I really appreciated that. With the silent whispers I heard from the pond and the crowing of the chickens and the silent movements of the pigs' tails in our backyard, I learnt to appreciate the beauty of silence with animals around. And best with Elfie in the lowest moment of my childhood.

So how can one blame me if every time I tell a story to the children in my own school, or the stories I write for my grandkids are mostly about animals?

Hey, look at this chick of mine I took care there in Williamsburg. It was only 12 days as far as I remember. There was something she wanted to convey, she wanted freedom, and she wanted a bigger space. So then and there we decided to put her and the others inside the barn. What a wise chick! Sad to say, I left her with a heavy heart. And just a few weeks ago, my daughter informed me that she is a grown hen already and produced so many eggs.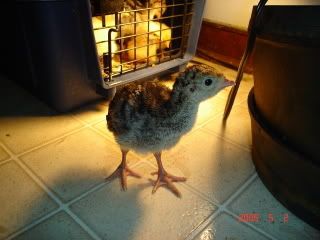 Now, here in Singapore, I still have a pet with me. Just look at my goldfish. Isn't she endearing? Do imagine the joys she and her friends give me and my family. And looking at them after a stressful day at work is relieving. Just looking at them is a therapy in itself.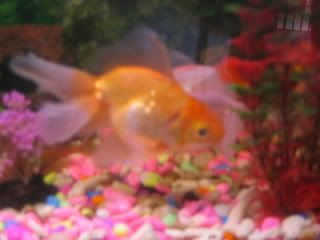 So why not have a pet of your own too? For a pet is a joy to be with. They are humans and more humans most of the time.