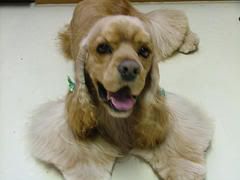 my apology for not posting right away when i got my invitation. first, i would like to thank you guys for the invitation to be part of this wonderful site. YuRee was delighted, heehee.
let me start with his bio...he's a cocker spaniel and was born on 23 september 2002. let me do the math...that makes him 2 years and 9 months old. we had him in may of 2003 while we were in japan. i rejected the idea of having a pet when my husband (james) told me about Yuree (still hario at that time). YuRee was originally with the rivers' family and paid fortune when they got him. unfortunately, they have three kids and both of them are working and they don't have extra set of hands to take care of him. they don't want to neglect him and just give it to somebody they don't know. james and mrs. rivers worked together and started talking about YuRee's case. james told me about it and i said no, because during my younger years we had a family dog (iking) and eventually died because of sickness. but despite my rejection, james brought YuRee home. it was love at first sight and i felt bad for rejecting him at first. we paid a tenth of the portion only or i can say, it was almost a give away. we just love YuRee so much. adjusting to him was hard at first. it was like having a baby...literally. james would wake up at 5am because YuRee needs to go p**p! when james loses his patience, he would always say he would give YuRee away, but would take it back once YuRee goes back to his well-behaved mood. i'm always the middle man between them. YuRee listens to me more than to james, heehee.
what's with the name YuRee? everything fell into places with his name. my mom was visiting us when we had YuRee. when james brought him home, my mom was watching a TFC soap opera. one of the main casts name was atty. yuri orbida. although yuri is a girl's name in japan, we still named him YuRee since we got him in japan (do i make sense here?). but everybody who knew we came from japan, would understand why we named him YuRee, they said because it sounded like a japanese name (sans the soap opera story behind) heehee.
when we had to moved back to the states (california) last year, no questions asked... he's coming with us! he is now a permanent residence of united states and he's loving it, hahaha. although he miss hiroko-san, his groomer and sitter back in japan, he's adjusting really well.
this is it for now and we should be back for more adventures. again thank you guys for welcoming us.